Nimesil is a medical product that belongs to the group of anti-inflammatory non-hormonal drugs.
The active ingredient is nimesulide - a substance that relieves pain, lowers temperature, fights the inflammatory process. The tablets act as an inhibitor of cyclooxygenase extracts, which is responsible for the formation of prostaglandins and inhibits mainly cyclooxygenase-2.
Nimesil is prescribed to treat infectious diseases, to combat degenerative inflammatory pathologies of the musculoskeletal system (osteochondrosis, arthritis, rheumatism, bursitis, osteoarthritis, radiculitis), elimination of heat of various genesis, treatment of vascular, gynecological and urological diseases.
Clinical and pharmacological group
NSAIDs. Selective inhibitor of COX-2.
Conditions of leave from pharmacies
Released without a doctor's prescription.
Price list
How much does Nimesil cost in pharmacies? The average price is at the level of 900 rubles per package of 30 packets. For comparison, the price for 1 bag of Nimesil is 25-32 rubles.
Form of issue and composition
The drug Nimesil is available in the form of a powder for the preparation of a suspension, which is intended for oral administration. It has a light green color, coarse grain and an orange smell. The main active ingredient of the drug is nimesulide, its content in 1 packet of powder is 100 mg.
Also, the preparation contains additional compounds, which include:
Ketomacrogol.
Anhydrous citric acid.
Sucrose.
Orange flavor.
Maltodextrin.
Powder Nimesil is packaged in bags of aluminum foil to 2 g. The cardboard pack contains 9, 15 or 30 bags.
Pharmacological effect
The therapeutic effect of Nimesil, the instruction indicates this, is due to the fact that it affects the metabolism arachidonic acid by inhibiting cyclooxygenase (COX), resulting in reduced biosynthesis of prostaglandins.
The drug has a selective (selective) effect on COX-2, so that the formation of prostaglandins with cytoprotective properties in the gastric mucosa is not impaired. The risk of adverse reactions decreases. The drug reduces the production of superoxide anions by neutrophils, and also inhibits the formation of free radicals that appear in the inflammatory process.
Indications for use
Why do we need Nimesil? This drug is prescribed for the diagnosis of the following diseases:
Gynecological and urological diseases;
Pain syndrome - menstrual, traumatic, rheumatic, postoperative;
Inflammatory and infectious diseases, including postoperative and traumatic inflammations;
Inflammatory and degenerative diseases affecting the musculoskeletal system - arthritis, osteochondrosis, rheumatism, bursitis;
Diseases that are accompanied by high fever.
The drug is relevant as a means for long-term therapy and can be used to blunt the pain syndrome.
Contraindications
Nimesil powder can not be taken if a person has certain pathological processes or physiological conditions, which include:
The patient's age is less than 12 years.
Individual intolerance to any of the components of the drug.
Restorative period after surgical intervention aorto-coronary bypass.
The presence in the anamnesis of diseases accompanied by increased hemorrhage, hemorrhagic stroke of the brain.
Severe disorders, accompanied by a violation of blood clotting (a decrease in the functional activity of the hemostasis system).
A marked decrease in the functional activity of the heart (severe heart failure).
Joint use of drugs that have a negative effect on the liver (hepatotoxic drugs).
Postponed in the past gastrointestinal bleeding, including against the background of peptic ulcer.
Hypersensitivity (hypersensitivity) of the body to acetylsalicylic acid, including transferred in the past and accompanied by a spasm of bronchi (allergic bronchitis), inflammation of the nasal mucosa, urticaria.
Severe renal or hepatic insufficiency.
Chronic alcoholism or drug dependence.
Pregnancy or the period of breastfeeding (lactation) in a woman.
Noninfectious inflammatory chronic intestinal diseases in the acute stage (ulcerative colitis).
Feverish conditions, accompanied by an increase in body temperature, in particular in acute respiratory viral pathology, bacterial infections.
The presence of allergic diseases, including a combination of polynomia, bronchial asthma, and intolerance Acetylsalicylic acid, which is a non-steroidal anti-inflammatory drug.
A peptic ulcer characterized by a violation of the integrity of the mucous membrane of the stomach or duodenum. This is due to the fact that the drug Nimesil partially reduces the level of prostaglandins, which are responsible for protecting the mucosa shells of the upper gastrointestinal tract from aggressive factors (hydrochloric acid of gastric juice).
With care, Nimesil powder is used with concomitant type 2 diabetes, high blood pressure (arterial hypertension), ischemic heart disease, clopidogrel, heparin and its analogs), as well as hormonal anti-inflammatory drugs (glucocorticosteroids), peripheral pathologies arteries, smoking, concomitant use of drugs that reduce blood clotting (non-steroidal anti-inflammatory drugs.
Dosage and route of administration
The instructions for use indicate that Nimesil is taken orally, 1 packet (100 mg of nimesulide) 2 times / day. The drug is recommended after eating. The contents of the sachet are poured into a beaker and dissolved in about 100 ml of water. The prepared solution is not subject to storage.
Nimesil is used only for the treatment of patients older than 12 years.
Adolescents (aged 12 to 18 years): based on the pharmacokinetic profile and pharmacodynamic characteristics of nimesulide, there is no need to adjust the dose in adolescents.
Patients with impaired renal function: based on pharmacokinetic data, the need to adjust dose in patients with mild and moderate forms of renal failure (KK 30-80 ml / min).
Elderly patients: in the treatment of elderly patients, the need to adjust the daily dose is determined by the physician based on the possibility of interaction with other medicines.
The maximum duration of treatment with nimesulide is 15 days.
To reduce the risk of undesirable side effects, use the lowest effective dose with a minimally short course.
How to breed Nimesil?
To prepare the solution, take 1 sachet and pour the contents into a glass. Then pour it with 100 ml of water. Stir well until the mixture has a more pronounced color. Dosage of the drug can be adjusted by the doctor, focusing on the severity of the pathology and the general condition of the patient.
Side effects
The use of Nimesil can cause the following side effects:
Sense organs: blurry vision.
Respiratory system: bronchospasm, exacerbation of asthma, dyspnea.
Biliary system and liver: fulminant hepatitis, hepatitis, cholestasis, jaundice.
Cardiovascular system: tachycardia, hypertension, "hot flashes", lability of pressure.
TsNTS: a sense of fear, dizziness, nightmares, nervousness, drowsiness, headache, encephalopathy.
Lymphatic and circulatory system: eosinophilia, anemia, thrombocytopenia, hemorrhages, purpura thrombocytopenic, pancytopenia.
Allergic reactions: rash, itching, hypersensitivity reactions, increased sweating, dermatitis, erythema, urticaria, anaphylactoid reactions, erythema multiforme, angioedema, Lyell's syndrome, Stevens-Johnson syndrome.
Gastrointestinal tract: nausea, diarrhea, constipation, vomiting, gastritis, flatulence, stomach pain, stomatitis, dyspepsia, bleeding in the stomach, tarry stool, ulcer.
Urinary system and kidneys: hematuria, dysuria, renal failure, urinary retention, interstitial nephritis, oliguria.
Overdose
Nimesil quickly relieves pain and its effect lasts up to six to eight hours. In cases of severe inflammation and unbearable pain, it can be used more frequently - up to 3-4 times a day. But such use can not last more than one day. If an overdose occurs and the body reacts with bloating, vomiting or urticaria, it is necessary to rinse the stomach and drink activated charcoal.
With strong symptoms of poisoning, when home methods do not help, it is worthwhile to see a doctor.
special instructions
Before you start using the drug, read the special instructions:
Do not use Nimesil concomitantly with other NSAIDs.
If there are signs of "cold" or acute respiratory viral infection during the treatment with Nimesil, the drug should be stopped.
Unwanted side effects can be minimized by using the lowest effective dose of the drug as little as possible a short course.
Nimesil should be used with caution in patients with gastrointestinal ailments in history (ulcerative colitis, Crohn's disease), as possible exacerbation of these diseases.
Since Nimesil is partially excreted by the kidneys, dosage for patients with impaired renal function should be reduced, depending on the level of urination.
The risk of gastrointestinal bleeding, ulcer or perforation of the ulcer increases with an increase in the dose of NSAIDs in patients with a history of an ulcer, especially complicated by bleeding or perforation, as well as in elderly patients, so treatment should be started with the lowest possible dose. Patients receiving medications that reduce blood clotting or suppress platelet aggregation also increase the risk of gastrointestinal bleeding. In case of gastrointestinal bleeding or ulcers in patients taking Nimesil, treatment with the drug should be discontinued.
Despite the rarity of visual impairment in patients taking nimesulide concomitantly with other NSAIDs, treatment should be stopped immediately. If any visual impairment occurs, the patient should be examined by an oculist.
There are data on the occurrence of rare cases of reactions from the liver. When there are signs of liver damage (skin itch, yellowing of the skin, nausea, vomiting, abdominal pain, darkening urine, increased activity of "liver" transaminases) should stop taking the drug and contact your doctor.
In patients with renal or heart failure, Nimesil should be used with caution, since kidney function may worsen. In case of deterioration, treatment with Nimesil must be discontinued.
The drug can cause fluid retention in the tissues, so patients with high blood pressure and with cardiac abnormalities Nimesil should be used with extreme caution.
The composition of the drug includes sucrose, this should be taken into account in patients with diabetes mellitus (0.15-0.18 XE per 100 mg of the drug) and those who observe a low-calorie diet. Nimesil is not recommended for patients with rare hereditary diseases of intolerance to fructose, malabsorption of glucose-galactose or insufficiency of sucrose-isomaltose.
Clinical studies and epidemiological data suggest that NSAIDs, especially in high doses and with prolonged use, may lead to an insignificant risk of myocardial infarction or stroke. To exclude the risk of such events occurring when nimesulide is used, data is insufficient.
Nimesulide can alter the properties of platelets, so care must be taken when using the drug in people with hemorrhagic diathesis, however, the drug does not replace the preventive effect of acetylsalicylic acid in cardiovascular diseases.
Elderly patients are particularly susceptible to adverse reactions to NSAIDs, including the occurrence of gastrointestinal bleeding and perforations, endangering the patient's life, worsening kidney, liver and heart function. When Nimesil is taken for this category of patients, proper clinical control is necessary.
There are data on the occurrence in rare cases of skin reactions (such as exfoliative dermatitis, syndrome Stevens-Johnson, toxic epidermal necrolysis) to nimesulide as well as to other NSAIDs. At the first signs of skin rashes, lesions of mucous membranes or other signs of an allergic reaction, the drug Nimesil should be stopped.
Like other NSAID products that inhibit the synthesis of prostaglandins, nimesulide can adversely affect the course of pregnancy and / or development embryo and can lead to premature closure of the arterial duct, hypertension in the pulmonary artery system, impaired renal function, which can be transferred in renal insufficiency with oligodioremia, an increased risk of bleeding, a decrease in the contractility of the uterus, the occurrence of peripheral edema. In this regard, nimesulide is contraindicated in pregnancy and lactation. The use of Nimesil can negatively affect female fertility and is not recommended for women planning a pregnancy. When planning pregnancy, consultation with the doctor is necessary.
The influence of Nimesil on the ability to drive vehicles and control mechanisms has not been studied, so during the period of treatment with Nimesil, caution should be exercised when driving motor vehicles and engaging in potentially dangerous activities that require an increased concentration of attention and speed of psychomotor reactions.
Drug Interactions
When using the drug, it is necessary to take into account the interaction with other drugs:
Nimesulide is able to stimulate the nephrotoxicity of cyclosporins.
Anti-inflammatory non-steroid agents can weaken the effects of diuretics.
When used simultaneously with glucocorticosteroids, the risk of ulcers or bleeding from the stomach and intestines increases.
Anti-inflammatory nonsteroidal drugs can enhance the effects of anticoagulants, so this combination is not recommended for people with severe coagulation disorders. If this combination can still be avoided, careful monitoring of blood coagulation should be carried out.
When used with antiplatelet agents and selective serotonin reuptake inhibitors, the likelihood of bleeding from the stomach or intestines also increases.
Nimesulide is able to temporarily lower the evacuation of sodium and potassium under the influence of Furosemide and thereby weaken the diuretic effect of the latter. It should also be remembered that such a joint prescription of medicines requires caution in persons with impaired renal and cardiac function.
Anti-inflammatory non-steroidal agents reduce the clearance of lithium, which causes an increase in the level of the latter in the blood.
When Nimesil is prescribed less than a day before or after the administration of Methotrexate, care should be taken, as in such cases the content of Methotrexate in the blood and its toxic effects may increase.
Anti-inflammatory non-steroid agents can reduce the effect of antihypertensive agents. In individuals with compensated renal failure with simultaneous administration of ACE blockers, angiotensin receptor antagonists of the second type or agents that inhibit cyclooxygenase, progression of renal impairment and the development of reversible renal failure in acute type are possible.
Reviews
We picked up some reviews of people who used the drug Nimesil:
Lydia. For several years, Nimisil drank on a weekly basis from pains in the joints... .. But I need to know-he plants well the stomach... .excitation of gastritis, pancreatitis from this kind preparations as zdyshte, that with me and happened in the end... Now to me nonsteroid preparations are forbidden... .. It is necessary simultaneously with such preparations to drink Omeprazolum! Take care of the gastrointestinal tract... .And so.. the drug well removes the pain of course.
Andrei. And a year ago I took Nimesil from pain in the shoulder joint (sports injury) and "earned" from him a thrombosis of the left transverse sinus of the brain. Who does not know is the blockage of the vessels of the brain. And now I have a constant noise in my left ear and a slightly numb left side of my face. Violated blood circulation of the brain now in general. I traveled around all possible authoritative hospitals in Moscow. And, apparently, I will have to live with this constantly and I do not know how long... And I was then only 28 years old. So think, whether it is necessary to accept this preparation or nevertheless to suffer.
Irina. The Nimesil powder was prescribed to me by the therapist for acute paroxysmal pains in the back. For the best effect, he recommended that I combine Nimesil's treatment with No-shpa with a strong pain syndrome. Advantages of this pain medication is convenience in use and pleasant taste. Also happy that Nimesil can be bought at the pharmacy one by one. The price for 1 bag is 23 rubles. Enough to dissolve it in warm water and drink after eating. Painful sensations pass after 1-, hours. Therapeutic effect lasts 6-8 hours. When I drink Nimesil in a pair with No-shpa, the relief I felt after half an hour after eating.
Analogues
Replace Nimesil with the following drugs:
Nyz;
Nimika;
Nemux;
Aulin;
Aponil;
Mesulide;
Chondrosamine and others.
Before using analogues, consult your doctor.
Storage conditions and shelf life
Store in a dry place, protected from light and out of the reach of children, at a temperature of not more than + 25 ° C. Shelf life - 2 years.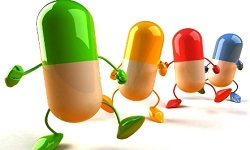 How to choose probiotics for the intestine: a list of drugs.

Effective and inexpensive cough syrups for children and adults.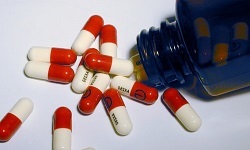 Modern non-steroidal anti-inflammatory drugs.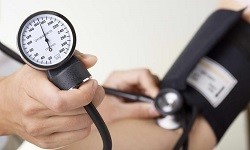 Review of tablets from the increased pressure of the new generation.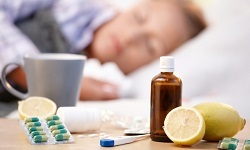 Antiviral drugs are inexpensive and effective.