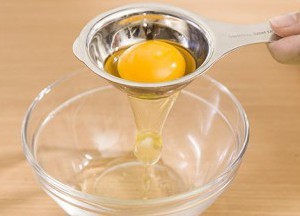 With the help of egg white you can seriously improve the skin condition. Protein masks are absolutely safe, because they do not contain chemical ingredients - a natural product. To look after a person in this way is cheap in terms of finances, and in terms of efficiency is much better than many salon procedures.

Article Content:
How does it work?
Efficiency
Value of egg-protein masks
Useful properties
Basic rules
Best recipes
Protein with honey for dry skin
Protein with starch for all skin types
Protein with lemon for oily skin
Protein with cucumber
Reviews about
How is thisworking?
As a result of this tool, women are putting in order the face, neck and décolleté region. The skin becomes softer, acquires a fresh look, a tone, an even color.
Efficiency
What effects can be achieved by regularly making a protein mask from an egg:
pull-up ( natural skin turgor for a large percentage is restored);

cleansing pores and removing black dots ( because the skin improves microcirculation of blood and oxygen, the pores begin to breathe normally, their patency is restored.) They stop clogging with fat, and the former black "heads" peel off and disappear with time);
color alignment, whitening ( rough pigmentation, freckles fade, skin appears smooth tone without contrasting zoning);
Acne Removal ( in healthy tissues there is no room for bacteria - pustules and inflamed patches gradually come to naught, the micro-roots are healed);
reduction of wrinkles ( skin renewal is a consequence of recovery of collagen and elastin activity, the fibers seem to come to life, they wake up from hibernation, sagging decreases).
Value of egg-protein masks
What is the value of this option of caring for yourself? The thing is:
neck and décolleté are very problematic places, in which it is very difficult to maintain physical youth or at least its visibility;
if the face is more or less easy to solve the problem of going into the light( decorative cosmetics helps in many ways to hide defects), then the neckline and neck are almost always visible;
the person traditionally gets more attention in terms of care. The woman now and then massages the face, and during the day it involuntarily receives a tone from the mimic mobility( the skin on the neck and neckline is always immobile);
on the face is often present tonal basis and powder - they protect the skin from sunlight( on the neck masking cosmetics or are rarely applied, or quickly washed clothes, and for repeated application, there is not enough attention, no time, no desire).
Useful properties
Egg white protein for skin is a source of smartness, youth, health. By its origin, it is close to human tissues, has the same nature. Accordingly, any masks and mixtures interact well with our skin - the necessary part will be absorbed, the excess can be washed off easily with water.
What is contained in egg white?
In simple terms, in egg whites, nature has prepared for us a combination of such beneficial effects as:
proteins. Are the basis of the cellular structure, and the skin is not an exception;
amino acids. Organic compounds from amines and acids. Remove excess calcium from the cells. Normalize the transport through the membrane cells of calcium and sodium ions. Protein structures are formed from amino acids. And also - components of hemoglobin and phospholipids;
vitamins. Group B - to support regeneration, to preserve moisture in the skin. Vitamin D - protection against cancer, the synthesis of vitamin A under the influence of sunlight, the regulation of phosphorus metabolism;
microelements. The egg whites contain zinc, calcium, copper, phosphorus, etc. It is necessary for the structure of cells and normal metabolic processes in them.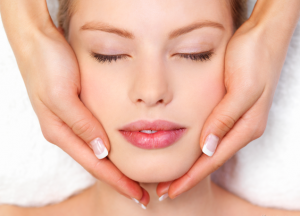 The best recipes for lifting face masks at home.
How can you use wheat germ oil for facial skin care? Read in this article.
Basic rules
To make a mask of protein with a qualitative result, one should keep in mind simple rules and observe them. The protein structure requires a quivering attitude - does not like high temperatures and acidic environment( in both cases, the protein will clot).When drying, the protein also behaves in a special way, and this must be taken into account.
Code of Practice that must be observed:
always apply the mask only to the perfectly cleansed face of ( no cosmetic residues on the skin should be);
if you want to enhance the effectiveness of the protein mask - , make steam baths or hot compress ( in this way you will slightly expand the pores);
the liquid protein spreads, so , before applying the mask, limit the face with a moist "barrier" made of cotton swabs moistened with warm water .Densely to each other, spread them along the contour of the treated area. Another option is to remove a bundle of loose cotton wool, moisten it with water, place it on the face in a frame so that the mixture does not spread out beyond it;
on the face of the protein should be no more than 15-20 minutes ( at this stage the mask is still removable, and after - the crust will be difficult to remove);
during procedure facial muscles should be completely relaxed , and the face - motionless. Do not talk, do not laugh and do not smile;
to remove the mask, use herbal decoction or boiled water .Wash the mask with light massage movements on small circles;
at the end of the procedure , remove the mask residues with a neutral lotion, apply with the skin cream( depending on what type of skin you personally have);
frequency of procedure - no more than 2 times a week, month after month;
prepare in advance whipping whisk, bowl, wide brush or men's shaving brush, several paper napkins for blotting random drops during the procedure.
The best recipes
Of all the variety, you will surely choose something for yourself, and other options seem uninteresting to you. At first it is recommended to try different recipes. This will help you decide. Listen to the sensations of your skin, draw conclusions, analyze.
Warning! All of the following recipes are described based on 1 protein per person. Want to process one more zone - this is plus one protein and plus a set of other ingredients. That is, to treat the face, neck and décolleté, you need to multiply each recipe by three.
Protein with honey for dry skin
Procedure:
protein whip into foam;
add 1 tsp.natural honey( liquid or slightly warmed, because by the middle of winter honey usually thickens);
thoroughly mix until homogenous;
add 1 tsp.olive oil;
apply to clean skin;
hold for 7-10 minutes.
Protein with starch for all skin types
Procedure:
whisk the protein to foam;
gently pour in a small amount of 1 tbsp.l.natural starch( no synthesized products!), whip again - so that there are no lumps;
coat the skin with a thin layer, leave for 10-12 minutes;
wash off the mask with warm water.
This recipe is aimed at softening, moisturizing, nourishing and smoothing the color.
Protein with lemon for oily skin
Procedure:
thoroughly beat the protein foam from the protein in an amount of 1 piece;
whipping, add 1 tbsp.l.fresh lemon juice( do not stop whipping, because otherwise the protein may fold into flakes);
spread over the skin;
leave for 15-17 minutes;
rinse with warm water.
Effect - removing greasy shine, giving elasticity, cleaning pores, whitening.
Protein with cucumber
Procedure:
grate fresh cucumber on a fine grater;
select the gruel in a volume of 1.5-2 st.l.;
protein 1 egg whip into foam;
connect the two substances into one, whip thoroughly until smooth;Add
with 1 tsp.olive or almond oil( also it can be replaced by pharmacy vitamin E or fish oil);
apply to the skin;
hold until the mask is completely dry;
remove the film or wash the face with water.
As a result, you will get a smart, shiny skin and light whitening effect.
Almond oil for facial wrinkles: reviews of women and the best recipes.
What are the home masks against black dots? Read in this article.
Does castor oil help to get rid of wrinkles?http: //netlekarstvam.com/krasota/ uhod-za-kozhej / kastorovoe-maslo-dlya-litsa.html
Reviews about
The excellent results of protein masks are not in doubt. That's what ordinary girls and women say about this amazing natural remedy:
Lyudmila S., 29 years old. "When I started making protein masks, the effect came almost immediately. The skin has changed. There was a normal healthy color - as if aligned. Although I have pigmentation. What is more interesting, pimples have left somewhere. In general, very pleasant impressions. I like it when you wash the mask off, it's so nice to the skin - it breathes as it was born again ";
Marina O., 41 years old. "In life I use expensive cosmetics. Only sometimes it feels like there is more chemistry and advertising aggression in it. Sometimes I want to do nothing with my face, if only my skin would breathe and rejoice in life. Natural egg white is a real miracle! I do the mask 3 times a month. I alternate olive oil, lemon, starch. As a result, I get nutrition, moisturizing, whitening ";
Kira N., 37 years old. "Girls, it's so wonderful!. . Protein mask with honey or cucumber - this is my favorite. With honey, the nutritional problem is solved, and with a cucumber - like how the color is leveled, bleached. I love these masks very much. I recommend to all!".
Talk about protein masks is endless. Simplicity and efficiency are obvious. Such a procedure can be organized at home by any woman, regardless of age and material level. Do not need to look for time to go to the salon, spend money, worry about safety. Easy and affordable, with huge benefits. Rejuvenating the skin at home is not a myth, but a reality.