Amoxiclav is an antibiotic of the penicillin group, it includes amoxicillin and clavulanic acid.
It is a complex new generation drug that has powerful antimicrobial activity against most pathogenic bacteria resistant to other penicillin drugs. Due to this, Amoxiclav has a wide scope of application and is successfully used to treat a variety of diseases
On this page you will find all information about Amoxiclav: the full instruction on the application for this medicine, average prices in pharmacies, complete and incomplete analogs of the drug, as well as reviews of people who have already used Amoxiclav. Want to leave your opinion? Please write in the comments.
Clinical and pharmacological group
Antibiotic of a broad-spectrum penicillin group with a beta-lactamase inhibitor.
Conditions of leave from pharmacies
It is released on prescription.
Price list
How much does Amoxiclav cost? The average price in pharmacies depends on the form of release:
PriceAmoxiclav in tablets 250 mg+ 125 mg is on average 230 rubles for 15 pcs. Buy antibiotic500 mg+ 125 mg can be priced at 360 - 400 rubles for 15 pcs. How much are the tablets875 mg + 125 mg, depends on the place of sale. On average, their cost is 420 - 470 rubles for 14 pcs.
PriceAmoxiclav Quiclab 625 mg- from 420 rubles for 14 pcs.
Price of suspensionAmoxiclav for children- 290 rubles (100 ml).
PriceAmoxiclav 1000 mgin Ukraine (Kiev, Kharkov, etc.) - from 200 hryvnia for 14 pieces.
Form of issue and composition
The preparation is issued as:
Film-coated tablets
Powder intended for the manufacture of a suspension
Powder lyophilized for intravenous injection
Before using the drug in the form of a powder, it is bred in an infusion solution or water. Let's consider in detail all varieties of medicinal forms.
Amoxiclav tablets contain different concentrations of active substances and are available in three versions:
Amoxiclav 375 (contain 250 mg of antibiotic + 125 mg of acid)
Amoxiclav 625 (500 mg of antibiotic + 125 mg of acid)
Amoxiclav 1000 (850 mg of antibiotic + 125 mg of acid)
In addition, the composition of tablet forms includes the auxiliary components responsible for the formation of the viscosity of the drug: magnesium stearate, silicon dioxide, cellulose, talc, etc. Amoxiclav tablets with any composition of active ingredients are recommended to dissolve in 100 ml of water before use. If the ability to dissolve the tablet is missing, it must be thoroughly chewed and washed down with a sufficient amount of liquid.
Pharmacological effect
The combination of amoxicillin with clavulanic acid is unique in its way. Amoxicillin and other antibiotics of the penicillin group cause the death of bacterial cells by binding their surface receptors. However, most bacteria during the time of application of the drug have learned to destroy this antibiotic with the help of the enzyme beta-lactamase.
Clavulanic acid reduces the activity of this enzyme, so this drug has a very wide spectrum of action. It kills even strains of bacteria resistant to amoxicillin. The drug has a pronounced bacteriostatic and bactericidal effect on all kinds of streptococci (except methicillin-resistant strains), echinococci, listeria.
Sensitive to amoxiclav and gram-negative bacteria:
Bordetella;
brucella;
Gardnerella;
Klebsiella;
moraxella;
salmonella;
Proteus;
shigella;
clostridium and others.
Regardless of the combination with the ingestion of food, the drug is well absorbed into the body, the maximum concentration of the drug is reached already in the first hour after taking.
Indications for use
Amoxiclav is prescribed for infections caused by sensitive strains of microorganisms, namely, in the following diseases:
Infections of the biliary tract (cholangitis, cholecystitis).
Infections of bone and connective tissue.
Infections of the skin and soft tissues (impetigo, phlegmon, erysipelas, abscess, secondarily infected dermatoses).
Osteomyelitis, meningitis, sepsis and endocarditis.
Infections of the ENT organs, lower and upper respiratory tract (pharyngitis, tonsillitis, sinusitis and otitis media in acute and chronic forms, gullet abscess, pneumonia, acute bronchitis with superinfection, chronic bronchitis); - infection of the urinary tract and pelvic organs.
The use of Amoxiclav is effective in preventing infections in surgery and in treating postoperative infections.
Contraindications
The spectrum of contraindications to the use of Amoxiclav is not wide, it includes such states:
Severe impairment of the functional activity of the liver and kidneys (insufficiency of these organs).
Some viral diseases are infectious mononucleosis.
The tumor process in the lymphocytic sprout of the red bone marrow is lymphocytic leukemia.
Allergy to penicillins and their analogs is an absolute contraindication, in which Amoxiclav is replaced by an antibiotic from another pharmacological group. Amoxicillin can cause a severe allergic reaction, which is manifested by a rash on the skin, itching, urticaria (rash on the background of skin edema, reminiscent of a nettle burn), Quincke's edema (angioedema of the skin and subcutaneous tissue), anaphylactic shock (severe allergic a reaction in which there is a progressive decrease in systemic arterial pressure with the development of multiple organ failure).
In the case of any allergic reactions to antibiotics of the penicillin series (including amoxicillin), Amoxiclave is also not used.
Application in pregnancy and lactation
Amoxyclave atof pregnancyIt can be used if the expected effect exceeds the possible harm to the fetus. It is undesirable to use Amoxiclav during early pregnancy.
More preferable are the 2 trimester and 3 trimester, but during this period Amoxiclav dosage during pregnancy should be observed very accurately. Amoxyclave atbreastfeedingdo not prescribe, because the active components of the drug penetrate into breast milk.
Instructions for use Amoxiclav
The instructions for use indicate that the tabletsAmkosiklavadults and children over 12 years of age (or with a body weight> 40 kg)atmild to moderate infectionappoint a 1 tab. (250 mg + 125 mg) every 8 hours or 1 tab. (500 mg + 125 mg) every 12 hours, in the case ofsevere infection and respiratory tract infections- 1 tab. (500 mg + 125 mg) every 8 hours or 1 tab. (875 mg + 125 mg) every 12 hours.
The drug in the form of tablets is not prescribedChildren under the age of 12 years (with a body weight <40 kg).The maximum daily dose of clavulanic acid (in the form of potassium salt) isof adults- 600 mg, forchildren- 10 mg / kg body weight. The maximum daily dose of amoxicillin isof adults- 6 g, forchildren- 45 mg / kg body weight. The course of treatment is 5-14 days. The duration of the course of treatment is determined by the attending physician. Treatment should not last more than 14 days without a second medical examination.
Whenodontogenic infectionsappoint a 1 tab. (250 mg + 125 mg) every 8 hours or 1 tab. (500 mg + 125 mg) every 12 hours for 5 days.
With renal failure of moderate severity (KK 10-30 ml / min), appoint 1 tab. (500 mg + 125 mg) every 12 hours, with renal insufficiency of severe degree (CC <10 ml / min) - 1 tab. (500 mg + 125 mg) every 24 hours. In anuria, the interval between doses should be increased to 48 hours or more.
Side effects
The use of Amoxiclav may lead to the development of side effects:
Exchange processes: fever;
Digestive system: loss of appetite, diarrhea, pseudomembranous colitis, vomiting, inflammation of the tongue, mucous membranes shells of the organs of the mouth and stomach, nausea, indigestion, flatulence, enterocolitis, discoloration of the tongue;
Hypersensitivity reactions to Amoxiclav: rash, erythema, Stevens-Johnson syndrome, Quincke's edema, urticaria, dermatitis, Lyell's syndrome;
Hemopoietic system: increase in the number of eosinophils and agranulocytes, decrease in the number of erythrocytes, platelets and leukocytes;
Urinary system: inflammation of the kidneys, blood in the urine;
Infectious diseases: Candidiasis of various organs;
Hepatobiliary system: increased activity of ALT, ASAT, serum bilirubin level, quantity of alkaline phosphatase, hepatitis, bile stasis;
Central and peripheral nervous system: inadequate behavior, anxiety, dizziness, insomnia, confusion, headaches, convulsions, hyperkinesia.
Overdose
When taking in high doses, there may be disorders on the part of the digestive tract (nausea, abdominal pain, vomiting, diarrhea). From the side of the central nervous system there is a state of anxiety, nervous excitement, sleep disturbance, in rare cases - convulsive seizures.
When such symptoms appear, the patient is prescribed gastric lavage and activated charcoal intake. In severe cases, hemodialysis is required.
special instructions
The use of Amoxiclav tablets should only be performed as directed by the doctor. It is also advisable to read the instructions to the drug. Special instructions regarding the intake of this medication are necessarily taken into account:
The drug should be used only with the development of a bacterial infection caused by bacteria sensitive to amoxicillin. Amoxiclav is ineffective against viruses. The optimal before the initiation of antibiotic therapy is a bacteriological study with isolation culture pathogen pathological process and determine its sensitivity to Amoxiclav.
Before you start taking it, you need to make sure that there are no allergic reactions to taking antibiotics of the penicillin group and its analogues in the past. If necessary, it is desirable to conduct a test for the presence of allergies.
In the absence of effect from the beginning of the use of Amoxiclav tablets for 48-72 hours, it is replaced with another antibiotic or the therapeutic tactic is changed.
During the administration of the drug (especially with a course of treatment exceeding 5 days), periodic clinical a blood test to control the amount of its elemental elements (red blood cells, leukocytes and platelets).
Very carefully Amoxiclav is used in patients with concomitant liver or kidney dysfunction, in parallel, their functional activity is monitored.
Amoxiclav in tablets for small children is not used, since it contains a high concentration of active substances, calculated for an age of 6 years.
Combined use with drugs from other health care groups should be very careful. Do not use in parallel drugs that reduce blood clotting, have a toxic effect on the liver or kidneys.
Amoxiclav tablets do not have a negative effect on the reaction rate of a person and the concentration of his attention.
There is no information on the damaging effect of Amoxiclav on the developing fetus. However, its use in the first trimester of pregnancy is undesirable. In late pregnancy and breastfeeding the drug is allowed to use, but the reception should be done only under the supervision of the doctor.
All these special instructions regarding the use of Amoxiclav are necessarily taken into account by the attending physician before his appointment.
Drug Interactions
Amoxiclav increases the toxicity of methotrexate when taken concomitantly.
When taking both Amoxiclav and Allopurinol, the likelihood of exanthema increases.
Do not simultaneously take disulfiram and amoxiclav.
Simultaneous use of drugs with glucosamine, antacids, aminoglycosides, laxative drugs slows down absorption of Amoxiclav, when taken concomitantly with ascorbic acid - absorption is accelerated.
With the simultaneous administration of the drug with some drugs, undesirable manifestations may occur, making the tablets, syrup and intravenous administration not to be used in parallel with a number of medications.
If the simultaneous reception of anticoagulants and Amoxiclav, the prothrombin time increases. Therefore, it is necessary to assign funds in such a combination carefully.
When simultaneous treatment with phenylbutazone, diuretics, NSAIDs, Allopurinol and other drugs that block tubular secretion, there is an increase in the concentration of amoxicillin.
Antagonists at a joint admission are amoxicillin and Rifampicin. The drugs mutually weaken the antibacterial effect.
Do not take Amoxiclav and bacteriostatic antibiotics (tetracyclines, macrolides) and sulfonamides at the same time, as these drugs may reduce the effectiveness of Amoxiclav.
Probenecid increases the concentration of amoxicillin and slows its excretion.
When using Amoxiclav, the efficacy of oral contraceptives may be reduced.
Reviews
Amoxiclav and its analogs are the most effective penicillin group drugs. As evidenced by the reviews about amoxiclav, the positive effect is manifested after the first intake of the drug. Amoxiclav is much more effective than "pure" amoxicillin. The duration of the course is less than amoksiklavom and the result is much faster. This is due to the fact that the constituent of the preparation - clavulanic acid - not only increases antibiotic resistance to bacterial enzymes, but also increases its effectiveness in combating them.
Often there is a need for prolonged use of the antibiotic. In order to reduce the risk of side effects, reviews of amoxiclav indicate that the parallel taking probiotics (preparations containing bifido- and lactobacilli) effectively copes with this task.
Analogues
Analogues of Amoxiclav are:
For the active substance - Bactoklav, Klamosar, Arlet, Panklav, Medoklav, Liklave, Augmentin, Rapiklav, Fibell, Ecoclave, Amovicomb, Amoxivan;
By the mechanism of action - Libacilum, Oxamp, Santaz, Ampiox, Tazocin, Timentin, Sulacillin, Ammiside.
Before using analogues, consult your doctor.
Storage conditions and shelf life
List B. The drug should be stored out of reach of children, dry place at a temperature of no higher than 25 ° C. Shelf life - 2 years.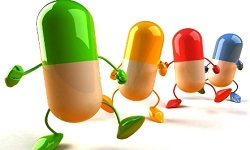 How to choose probiotics for the intestine: a list of drugs.

Effective and inexpensive cough syrups for children and adults.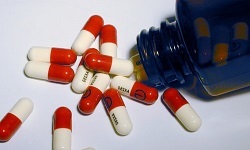 Modern non-steroidal anti-inflammatory drugs.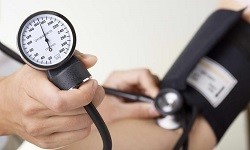 Review of tablets from the increased pressure of the new generation.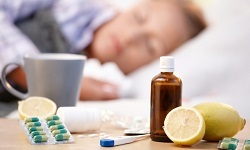 Antiviral drugs are inexpensive and effective.